We are pleased to announce the following dates are now confirmed for both the Dambuster and Vitruvian events in 2020.
Event Calendar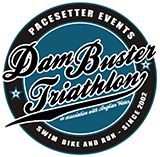 DAMBUSTER TRIATHLON
Saturday 20th June 2020
1.5km Swim – 42km Bike – 10km Run
Triathlon England National Championships

VITRUVIAN TRIATHLON
Saturday 12th September 2020
1.9km Swim – 85km Bike – 21km Run
If you register for our newsletter (we only send one per month and never pass details on to other parties so don't worry you won't be bombarded) you will be advised when entries open.
If you have already raced one of our events in the last three years you will be on our mailing list unless you de-registered from it.
If you register on twitter/facebook you will be advised of the date when entries open ahead of the crowd as it were.
You can register for any of our media links from our home page at www.PaceSetterEvents.com.
Thanks for the support and we look forward to seeing you at the races in 2020.